Style: 379 Josey Wales Cowboy Hat
Material: 5X Fur Felt (100% Fur Felt)
Crown Height: 4 1/8", 4 1/4", 4 1/2" or 4 5/8"
Crown Style: Slight Pinch Teardrop
Brim Size: 3 1/2" or 4"
Brim Style: Flat Brim with Pencil Rolled Raw Edge
Band: Acorn Band with Combat Knot
Colors: Black,
Silver Belly or
Distressed Silver Belly
Click here for Color Chart
This Josey Wales Hat is styled after the hat worn by Clint Eastwood from the film "The Outlaw Josey Wales". Just like Josey Wales, this hat features a 4" Flat brim with a pencil rolled raw edge and a 4 1/2" slight pinch teardrop crown. To top it off it comes with a beautifully distressed acorn band to give it a more authentic look.
This hat was inspired from the hat
Clint Eastwood
wore
in the movie "The Outlaw Josey Wales" (1976)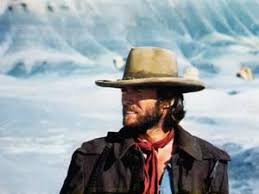 Style: 379 Josey Wales Cowboy Hat
Brand: Miller Hats
Product Code: 379
Availability:

In Stock
Tags: Clint Eastwood Hat