Top Hats by Miller

Mens Hats
07-14-2021
The classic flat top hat is without a doubt one of the most formal hats ever made. The fur felt top hat was popular at the end of the 19th Century. We also know top hats as Madhatter Hats, or Coachman hats. Mostly, top hats are made of Fur Felt and wool felt materials. Until World War I, the black fur felt was a standard item of formal outdoor wear by upper-class males for both daytime and evening usage.
Miller hats carries the style 360 Madhatter Top hat in black wool felt with a 7" crown a 2" rolled brim bound edge, with a 1 ⅞" double bow grosgrain band. The classic top hat Miller Hats carries is the Black Wool Coachman hat, available in a 4 ½" Crown, 2" rolled brim and a traditional double bow grosgrain band; the feather is optional, but adds elegance to the high crown.
Along with traditional formal wear, the top hat continues to be the most formal hat worn on special occasions, including weddings, funerals, horse racing events, Kentucky derby parties, theatrical productions, and magician shows. Men's top hats persisted in politics and international diplomacy for several years. Top Hats were part of formal wear for U.S presidential inaugurations frequently.
For elegance and formal wear there is no equal to the Top Hat. It has been one of the most enduring forms of headwear of our time, and in one form or another they have lasted for over two hundred years since the Civil War era. It's available and ready to ship.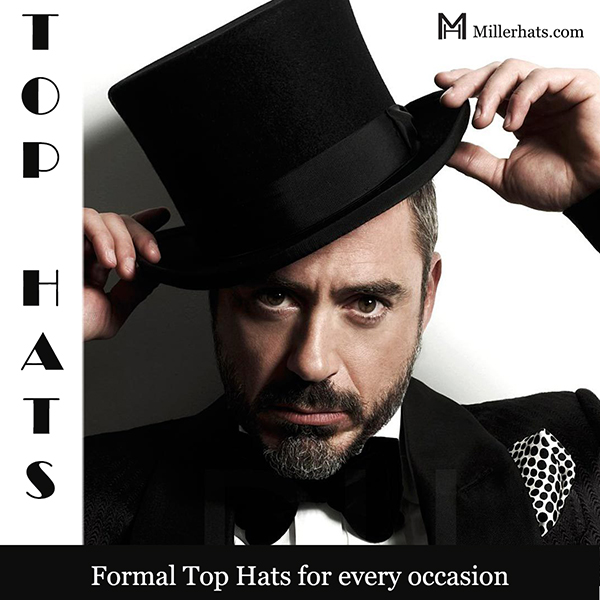 ---

Miller Hats has been in the hat business for over 30 years, are family owned and operated, and committed to providing our customers with quality hats and unsurpassed service. Miller Hats sells only those hats that meet our superior standards; and will therefore provide you, the customer, with years of wearing pleasure. We stock an abundant selection of all your favorite Cowboy Hats, Fedora Hats, Safari Outback Hats, Western and Military and Cavalry Hats and Caps, Fur and Leather Hats, Derby , Top Hats, Skimmer Hats. Miller Hats offers an extensive selection of Cowboy Hats, whether your first choice is an Old West, Gambler or Outback Western Hat. Order online, by telephone or mail.