The Great Gatsby hats by Miller Hats

Mens Hats
09-1-2021
The famous Miller Great Gatsby Hat collection is inspired by the 2013 romantic drama film. The film is based on the 1925 Novel The Great Gatsby by Scott Fitzgerald. The novel is set in the Jazz Age on Long Island, near New York City, the novel depicts first person narrator Nick Carraway's interactions with mysterious millionaire Jay Gatsby and Gatsby's obsession to reunite with his former lover Daisy Buchanan.
The Great Gatsby film was set in the 1920's era. The characters all wore 1920's fashion, the men wore tailcoat tuxedos and underneath a white wingtip collar shirt. To match the tuxedos they wore a top hat, a bow tie, a walking stick or a pocket watch. The trousers were high waisted and they wore double breasted vests with a single breasted jacket. 1920's fashionable suits were worn with Boater Hats, derby hats and wide brim fedoras. The most informal style of hat worn at the time was the newsboy flat cap.
The main characters, Jay Gatsby(Leonardo DiCaprio), Nick Caraway (Tobey Maquire) and Tom Buchanan (Joel Edgerton) wore boater hats with a variety of colorful patterns. But many of the additional characters wore fedoras in straw or felt, newsboy caps and flat caps. The relevance of the main characters wearing hats in the 1920's is primarily due to the fact that hats were a must. In that time and era - men did not leave the house without wearing a head covering.
Miller Hats Great Gatsby hat Collection includes top of the line genuine fur felt hats and a wool hat. If you are getting ready to attend a Great Gastby theme party or if you need 1920's men's hats visit our online catalog or store front. Many styles, colors and sizes available and ready to ship.
Miller Dress Hats - Homburg Hats, Derby Hats, Fedoras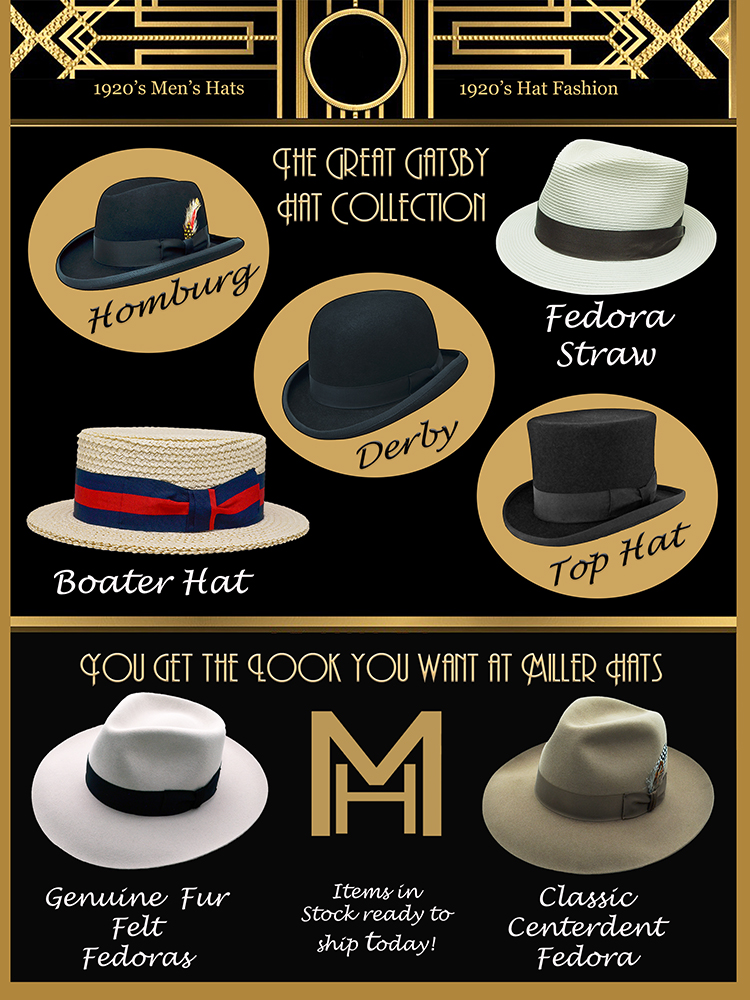 ---

Miller Hats has been in the hat business for over 30 years, are family owned and operated, and committed to providing our customers with quality hats and unsurpassed service. Miller Hats sells only those hats that meet our superior standards; and will therefore provide you, the customer, with years of wearing pleasure. We stock an abundant selection of all your favorite Cowboy Hats, Fedora Hats, Safari Outback Hats, Western and Military and Cavalry Hats and Caps, Fur and Leather Hats, Derby , Top Hats, Skimmer Hats. Miller Hats offers an extensive selection of Cowboy Hats, whether your first choice is an Old West, Gambler or Outback Western Hat. Order online, by telephone or mail.