Straw Crossover Hats for Miller

Mens Hats
07-29-2021
We refer to the straw crossover hats as combination of a dress hat and a cowboy hat. The Crossover hat isn't as drastic as the American cowboy hats, it's normally a little smaller crown and brim. Straw crossover hats start around a 3" brim. The crown mostly will be a teardrop or a center dent. The wideness of the brim helps combat the harsh weather in many hot regions.
The open range collection, designed specially for Miller Hats, is a shantung straw material and it's customized in the USA. The brim size of the open range collection is 3" brim and 4 ⅛" teardrop crown. It comes with a durable leather sweatband and options of leather trims. The outback hat is a beautiful style that fits well with men, women or youth. The outback look makes this hat a great fit for outdoor activities, horseback riding, fishing, golfing, festivals, rodeos, etc.
If you are in Houston, Texas cruise On In to Miller Hats so you can try on this popular hat. Remember, you get the look you want at Miller hats!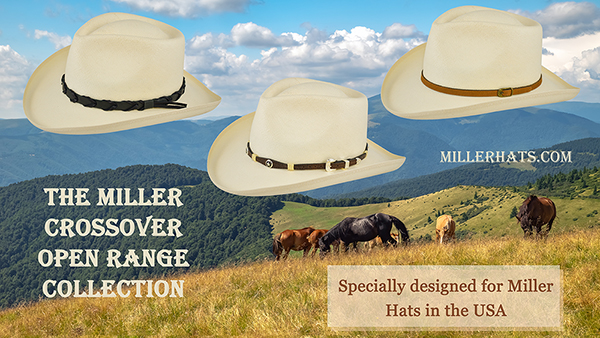 Open Range Collection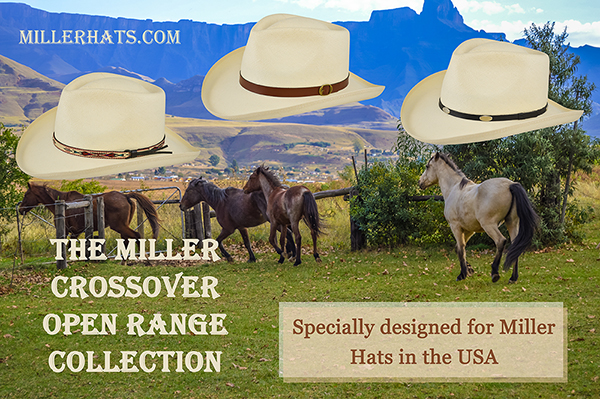 ---

Miller Hats has been in the hat business for over 30 years, are family owned and operated, and committed to providing our customers with quality hats and unsurpassed service. Miller Hats sells only those hats that meet our superior standards; and will therefore provide you, the customer, with years of wearing pleasure. We stock an abundant selection of all your favorite Cowboy Hats, Fedora Hats, Safari Outback Hats, Western and Military and Cavalry Hats and Caps, Fur and Leather Hats, Derby , Top Hats, Skimmer Hats. Miller Hats offers an extensive selection of Cowboy Hats, whether your first choice is an Old West, Gambler or Outback Western Hat. Order online, by telephone or mail.