Outback Lite Felt Hats

Mens Hats
02-12-2021
If you are looking for a stylish Lite Felt Outback Hat to wear on a variety of occasions this is the hat to go with. Unlike Derby hats or Top hats that are too formal and baseball caps which are too sporty. The Lite Felt Outback hat is a fashionable game changer that can be worn outdoor and at any sports activities.
The Miller Lite Felt Outback hats come in a Black, Pecan and Saddle brown. The Lite felt Outback hats are made exclusively for Miller Hats in the USA. The wool felt used in the outback hats collection is un-stiffened and pliable. The soft lite felt material makes this hat extremely comfortable and affordable.
The outback hats come with a pinched crown and a 2 3/4" brim. Variety of bands are also optional with some of the styles. These collections come with comfortable cloth sweatbands and lined with the famous Miller Hats satin liners.
Remember you get the look you want at Miller Hats.
Order your Lite Felt Fedora Hat online Anytime! Over 1000 styles In Stock to choose from.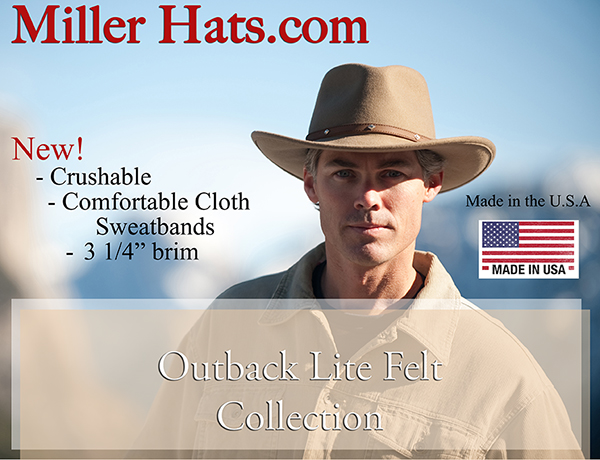 ---

Miller Hats has been in the hat business for over 30 years, are family owned and operated, and committed to providing our customers with quality hats and unsurpassed service. Miller Hats sells only those hats that meet our superior standards; and will therefore provide you, the customer, with years of wearing pleasure. We stock an abundant selection of all your favorite Cowboy Hats, Fedora Hats, Safari Outback Hats, Western and Military and Cavalry Hats and Caps, Fur and Leather Hats, Derby , Top Hats, Skimmer Hats. Miller Hats offers an extensive selection of Cowboy Hats, whether your first choice is an Old West, Gambler or Outback Western Hat. Order online, by telephone or mail.