Open Road Straw Hat by Miller

Mens Hats
08-5-2021
Stetson Hat company made the open road straw hat popular. IT was very popular in the 1950s era. They made the hat in fur felt materials and in a variety of straws. Nowadays, we make the Miller open road we are presenting in this collection of Shantung Straw.
The Miller Open road straw hat has become popular among people who wear dress hats and also western hats. The popularity of the hat makes it a great crossover hat. The open road hat is a combination of a dress hat and a slight western flare. Making these hats very easy to wear wherever you want to go. The trend has made this hat extremely popular among all age groups, from baby boomers to young Millennials.
The Miller Open Road collection, designed specially for Miller Hats, is a shantung straw material and it's customized in the USA. The brim size of the open road is 2 3/4" brim and 4" cattleman crown. It comes with a durable leather sweatband and options of leather trims. To add ventilation to the crown, it comes with 3 optional eyelets on each side. Open Road hats are available and ready to ship TODAY!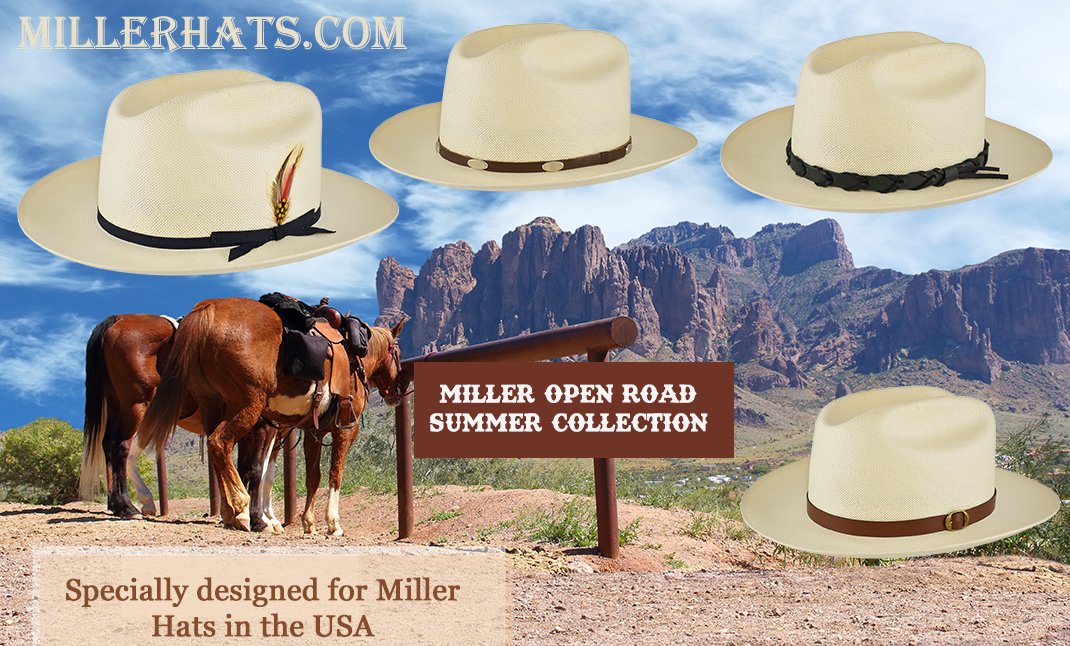 ---

Miller Hats has been in the hat business for over 30 years, are family owned and operated, and committed to providing our customers with quality hats and unsurpassed service. Miller Hats sells only those hats that meet our superior standards; and will therefore provide you, the customer, with years of wearing pleasure. We stock an abundant selection of all your favorite Cowboy Hats, Fedora Hats, Safari Outback Hats, Western and Military and Cavalry Hats and Caps, Fur and Leather Hats, Derby , Top Hats, Skimmer Hats. Miller Hats offers an extensive selection of Cowboy Hats, whether your first choice is an Old West, Gambler or Outback Western Hat. Order online, by telephone or mail.