Old West Hats

Mens Hats
02-10-2022
Many ranch hands, presidents, political figures, and business executives wear cowboy hats. But one thing is certain: once you put a cowboy hat on your head, the unique experience makes you feel you are going to be part of an adventure, or experience. For a moment, you become part of another time, era, when the West wasn't just a place, but a state of mind.
That is what many old west cowboy enthusiasts experience by being part of organizations such as the SASS (Single Action Shooting Society). SASS members take pride in preserving the history of the old west by being part of action shooting events. The members will not just have fun with the family, but they will also learn the traditions and history of the Old west.
The requirement of being an SASS member is to adopt a shooting alias appropriate to your specific character or profession of the 19th century. They then developed their costume accordingly. One of the most important pieces of the costume is a Cowboy Hat. Trying to find a good quality authentic old west hat that resembles the old west era is always a challenge.
At Miller hats we have designed many old west styles in top quality genuine fur felt materials. Some of the popular styles include the open crowns. The open crown is authentic of the old west area primarily because it allows for the cowboy to crease their own hat just like in the old west. The traditional styles from the old west would add dents to the side or the front. It is the nature of the crease in the crown and the shape of the brim that creates a unique accent for the person wearing a particular cowboy hat. As the old west cowboy would say "It's the last thing you take off and the first thing that is noticed".
Our styles are unique to the era and designed by Miller Hats in the USA. Check out our collections today! 100's of hats in stock ready to ship.
Order your Old West Cowboy Hat TODAY!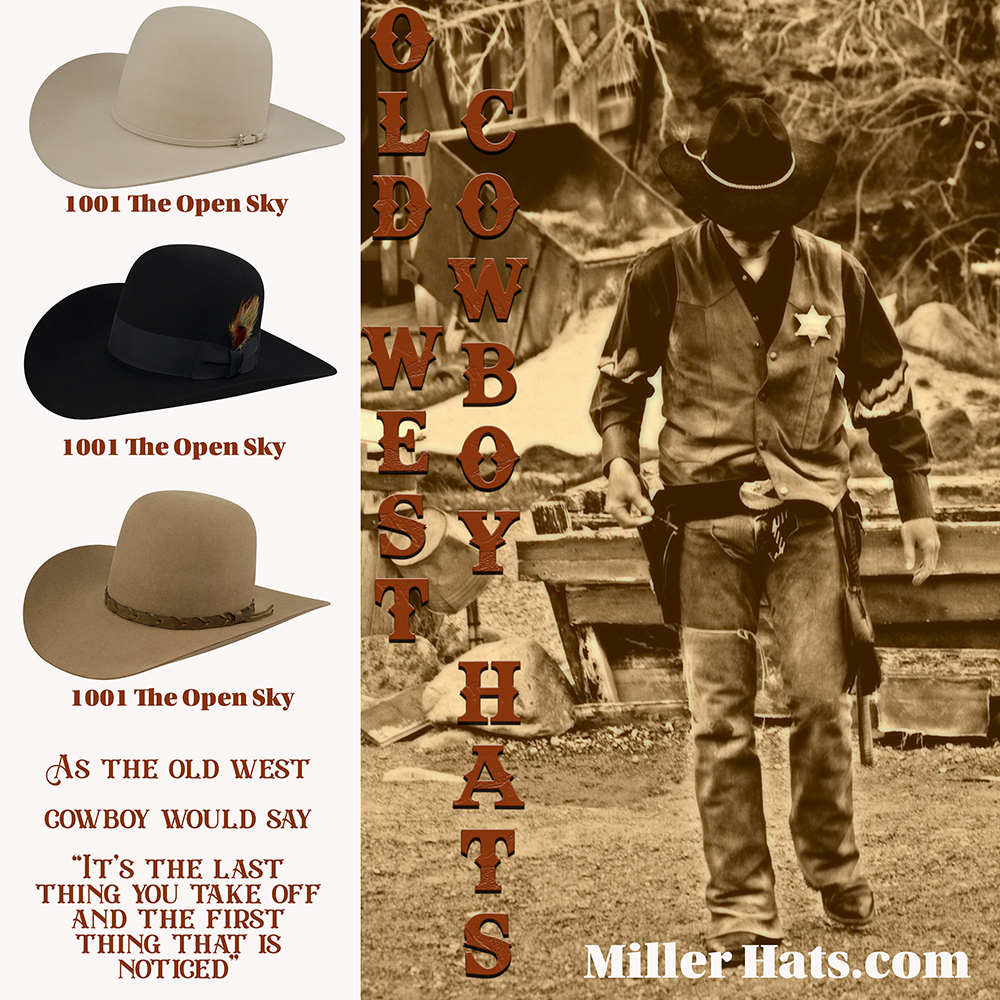 ---

Miller Hats has been in the hat business for over 30 years, are family owned and operated, and committed to providing our customers with quality hats and unsurpassed service. Miller Hats sells only those hats that meet our superior standards; and will therefore provide you, the customer, with years of wearing pleasure. We stock an abundant selection of all your favorite Cowboy Hats, Fedora Hats, Safari Outback Hats, Western and Military and Cavalry Hats and Caps, Fur and Leather Hats, Derby , Top Hats, Skimmer Hats. Miller Hats offers an extensive selection of Cowboy Hats, whether your first choice is an Old West, Gambler or Outback Western Hat. Order online, by telephone or mail.