Miller Hats Store Gift Certificate

Mens Hats
03-9-2021
Miller Hats Store Gift Certificate
If you are not sure about the size, style or color for the hat person in your life. Then give him a gift certificate from Miller Hats. This gift certificate would make a great gift for your spouse, father, brother, or any family member. Gift Certificates make perfect Father's Day gifts, Holiday gifts, Birthday Gifts or any other special occasion. Our Gift Certificates are available in any amount in our Houston Store.
Drop by Miller Hats Store at 11110 Bammel N. Houston, Houston, Texas 77066 Store hours Tuesday - Friday 10:00 - 5:00 pm (CST), Saturday 10:00 - 4:00 pm (CST) Closed Sunday & Monday. Call us at 281-587-2295.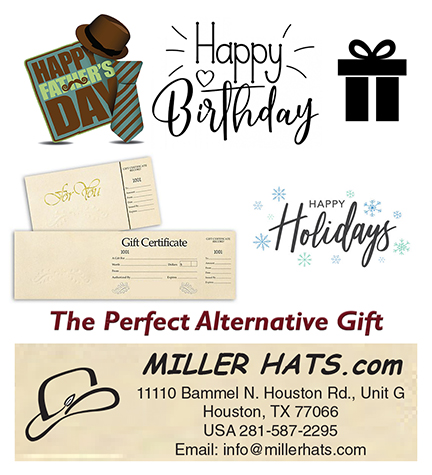 ---

Miller Hats has been in the hat business for over 30 years, are family owned and operated, and committed to providing our customers with quality hats and unsurpassed service. Miller Hats sells only those hats that meet our superior standards; and will therefore provide you, the customer, with years of wearing pleasure. We stock an abundant selection of all your favorite Cowboy Hats, Fedora Hats, Safari Outback Hats, Western and Military and Cavalry Hats and Caps, Fur and Leather Hats, Derby , Top Hats, Skimmer Hats. Miller Hats offers an extensive selection of Cowboy Hats, whether your first choice is an Old West, Gambler or Outback Western Hat. Order online, by telephone or mail.