Miller Genuine Panama Hats

Mens Hats
05-13-2021
Miller Genuine Panamas Hats are "The king of all summer hats", the panama has remained the leader of the Miller Hats line because of its unique combination of smart appearance, lightness, coolness and durability. The Miller genuine panamas are all hand-woven of "toquilla" fiber and imported from Ecuador and South America.
Actually, it is said that an Ecuadorian named Francisco Delgado made the first Panama hat woven in the year 1629. Since then, the weaving of Panama bodies has remained substantially the same - performed by native families who pass their skills on down from generation to generation.
The tough "toquilla fibers'' come from the leaves of palm plants. They wash the shreds before they are rolled and flattened into the form suitable for weaving. When the shredded leaves are processed and the fibers are in the form desired for weaving, they are sorted and selected according to length, thickness and color. The more uniform the fibers are for each body, the better the finished hat can be. The finest grade of fibers produces the highest quality hat, not only because fineness of fiber results in fine texture but also because a hat of fine fibers takes considerably more time and effort to weave than a hat of course fibers.
Nowadays, the Panama hat brings an elegant boost to any summer outfit. It adds a sense of proper style to those sunny days, providing not only protection from the sun's rays, but also an additional something like a welcome eccentricity. The new collections of panama hats are colorful and fashionable. Remember, you get the look you want at Miller Hats!
Order your genuine Panama Straw Hat Today!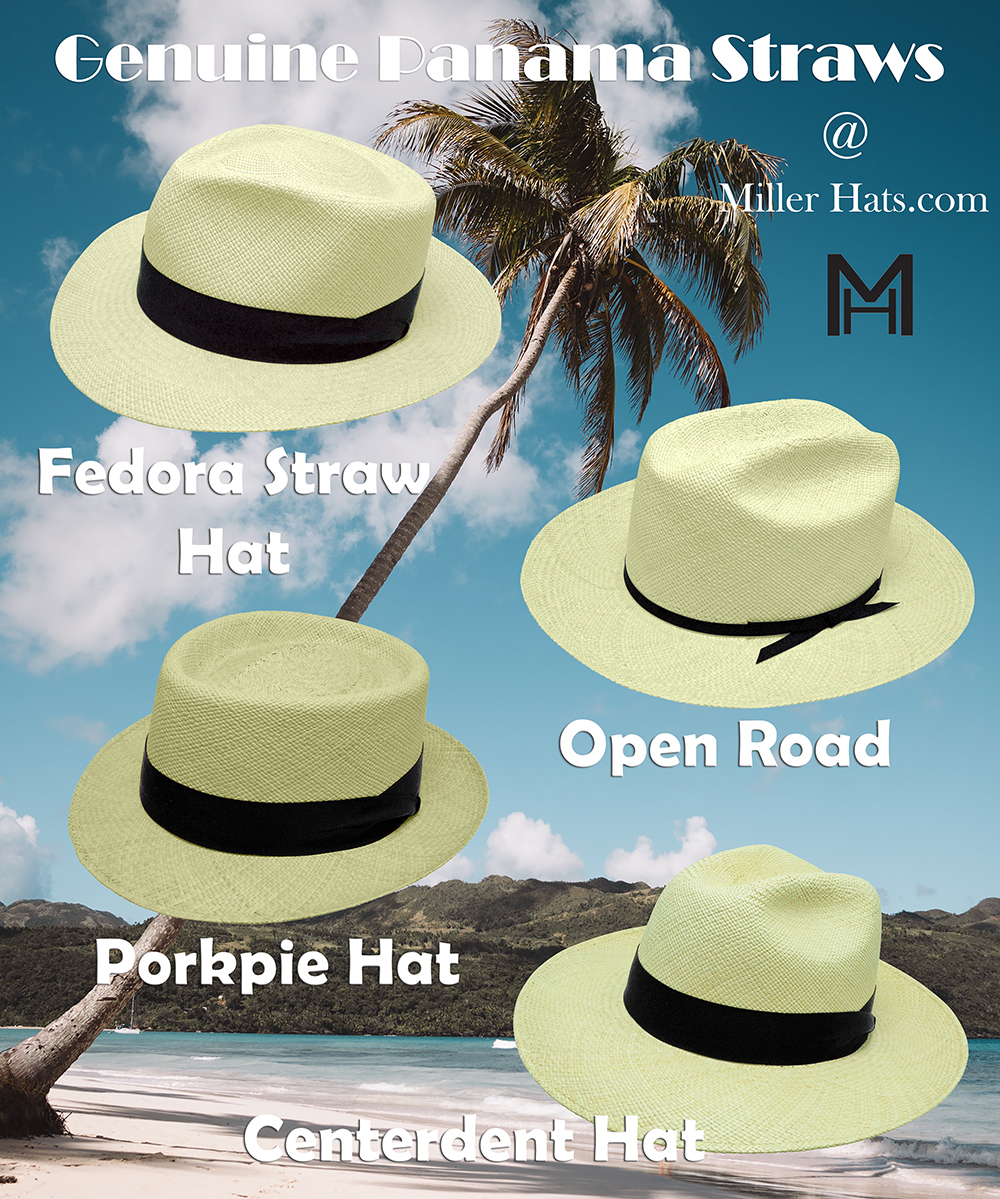 ---

Miller Hats has been in the hat business for over 30 years, are family owned and operated, and committed to providing our customers with quality hats and unsurpassed service. Miller Hats sells only those hats that meet our superior standards; and will therefore provide you, the customer, with years of wearing pleasure. We stock an abundant selection of all your favorite Cowboy Hats, Fedora Hats, Safari Outback Hats, Western and Military and Cavalry Hats and Caps, Fur and Leather Hats, Derby , Top Hats, Skimmer Hats. Miller Hats offers an extensive selection of Cowboy Hats, whether your first choice is an Old West, Gambler or Outback Western Hat. Order online, by telephone or mail.