Miller Casual Hats

Mens Hats
04-1-2021
The Miller Casual Hats are the perfect option for any Outdoor activity. Weather you are planning to go on a trip or whether you are just exploring the outdoors. Our Casual hat collection is designed to protect outdoor enthusiasts from the sun, rain or cold. Our collection includes fishing hats, hunting hats, golf hats, safari hats, hiking hats, bucket hats, boonie hats and even pith helmets. Our goal is to get you the look you want even when enjoying the great outdoors.
Our casual hats are designed to protect the outdoor enthusiast from whatever mother nature throws your way. Protection from a long day outside under the hot sun is crucial for health and well being. Therefore wearing a wide brim with a mesh crown to allow for breathing and air flow is ideal. The breathing capability of the hat will help keep cool and reduce sweat and heat. Many casual hats are water repellent, most come with adjustable chin cord straps to keep the hat secure while staying active. Some will also be packable, you can carry with you in your suitcase or backpack and it will look great when you arrive at your destination.
The Miller Casual hats are available in smaller brim, medium brim and wider brims. Crowns come in a variety of shapes and the hats are made of top quality materials such as twill, ripstop,polyester fabrics, oilcloth materials, raffia straws, leathers, crushable wool, straws and many other options. Some of the options will also come with floating capabilities in case you are on the water.
Miller Hats understands the importance of selling a well crafted casual hat that can withstand the extreme weather conditions of the outdoors. Therefore, we have looked for top quality suppliers of casual hats. We have found the best quality materials for the best price. Many of the casual hats we offer are made in the USA some are imported from a variety of countries.
Order your Casual Hat online Anytime! Over 1000 styles In Stock to choose from.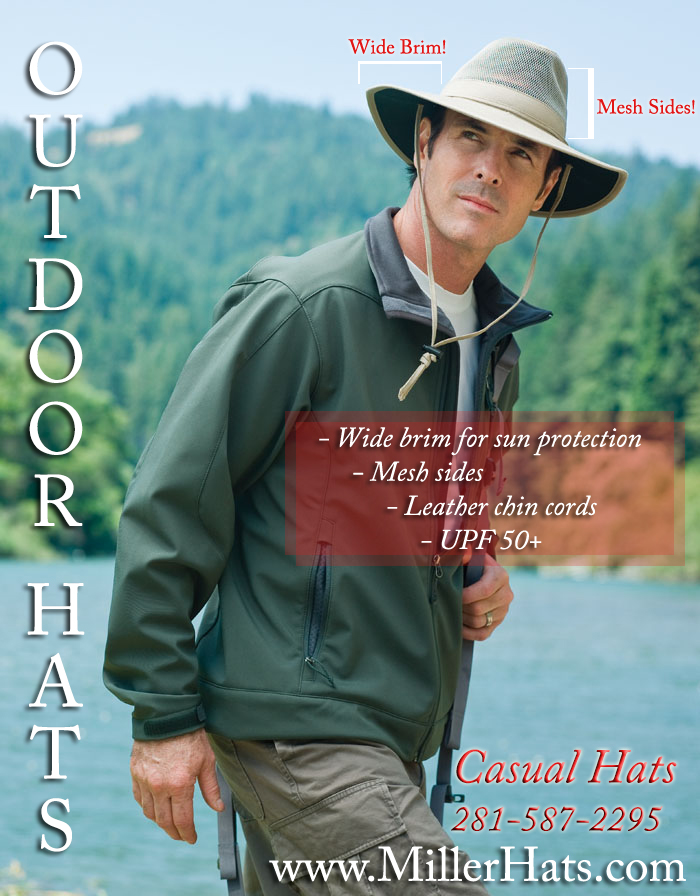 ---

Miller Hats has been in the hat business for over 30 years, are family owned and operated, and committed to providing our customers with quality hats and unsurpassed service. Miller Hats sells only those hats that meet our superior standards; and will therefore provide you, the customer, with years of wearing pleasure. We stock an abundant selection of all your favorite Cowboy Hats, Fedora Hats, Safari Outback Hats, Western and Military and Cavalry Hats and Caps, Fur and Leather Hats, Derby , Top Hats, Skimmer Hats. Miller Hats offers an extensive selection of Cowboy Hats, whether your first choice is an Old West, Gambler or Outback Western Hat. Order online, by telephone or mail.