Miller Blues Brother Hats

Mens Hats
02-3-2021
The Blues Brothers are a blues and soul band that became popular in 1978. The band was made by comedians Dan Aykroyd and John Belushi, they later became famous for their Hollywood film "The Blues Brothers". The idea of wearing a suit in the film was primarily inspired by Jazz performers from the '40s, 50's, 60s who almost always wore a formal suit. On the other hand, the idea of wearing a fedora hat was inspired by John Lee Hooker, a famous blues singer who wore fashionable hats. For The Blues Brothers film, Dan and John wore black suits, with white shirts, skinny ties, black glasses and the famous stingy brim black fedora hat.
After researching the specifics of the Blues Brother hat, we came up with a variety of top of the line Fedora Blues Brother hat. Our designs are available in high quality fur felt and lite felt fedora hats. The high end hat we carry was designed with a centerdent crown, a 2" wide grosgrain band like the original hat worn by the Blues Brothers, with roan leather sweatband and the famous miller hat satin liners. If you are serious about hats, Miller Hats online is the place to shop.
Blues Brother hats are IN STOCK and available to ship TODAY!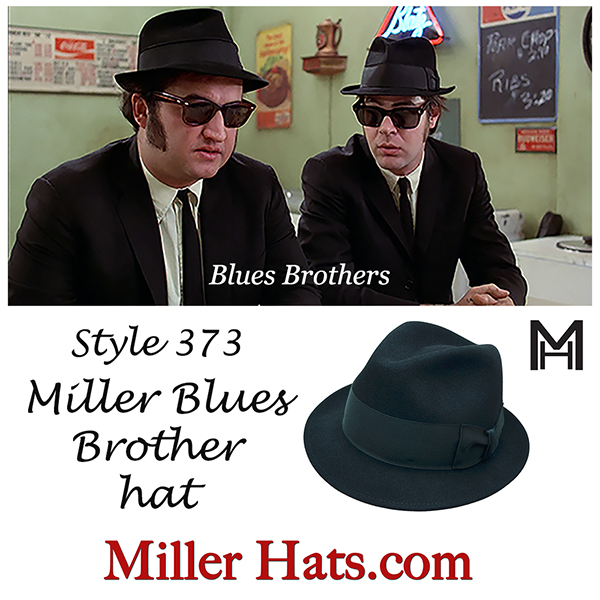 ---

Miller Hats has been in the hat business for over 30 years, are family owned and operated, and committed to providing our customers with quality hats and unsurpassed service. Miller Hats sells only those hats that meet our superior standards; and will therefore provide you, the customer, with years of wearing pleasure. We stock an abundant selection of all your favorite Cowboy Hats, Fedora Hats, Safari Outback Hats, Western and Military and Cavalry Hats and Caps, Fur and Leather Hats, Derby , Top Hats, Skimmer Hats. Miller Hats offers an extensive selection of Cowboy Hats, whether your first choice is an Old West, Gambler or Outback Western Hat. Order online, by telephone or mail.