Military Patrol Caps

Mens Hats
05-5-2022
A patrol hat, also known as a field cap, is a soft cap with a stiff, rounded visor, and flat top, somewhat similar to a baseball cap, worn by the military personnel of some countries in the field when a combat helmet is not required. The patrol caps are available in solid colors such as Black, Khaki, Olive and Dark Navy. The camouflage patterns are available in woodland green and desert sand.
Add our military-patrol style cap to finish your full BDU uniform. The BDU Patrol Cap includes strong single-ply construction, which is paired with serge internal seams and a plastic visor insert for resiliency throughout the entire cap. Built to withstand everyday use, they constructed the BDU Patrol Cap of durable material in a variety of colors and patterns..
The perfect cover to match your ACUs. They made the Authentic Army ACU Patrol Cap with 50% nylon / 50% cotton Quarpel treated water repellent ripstop. This patrol cap is NIR compliant and features an interior pocket for maps and other documents. Treated with Quarpel, the ripstop fabric is ready for rigorous use rain or shine.
The patrol caps are so functional that they match the Lightweight Tactical uniforms. They made them with the same fabric as lightweight Tactical Pants, so they are a perfect match. The best part of this collection is that they sew it to military specifications. The item is easy to fold and carry in your packet if needed.
On a more popular note, celebrities also wore patrol caps in many war movies. Even the young adults wear them for airsoft and paintball activities. A variety of generations wear this popular style. You can find men and women wearing patrol caps while fishing, on a hike, or camping to protect themselves from the sun or just to look fashionable.
If you are looking for a patrol cap, Miller Hats is the place to go, visit our showroom or order online. 100s of styles in stock ready to ship.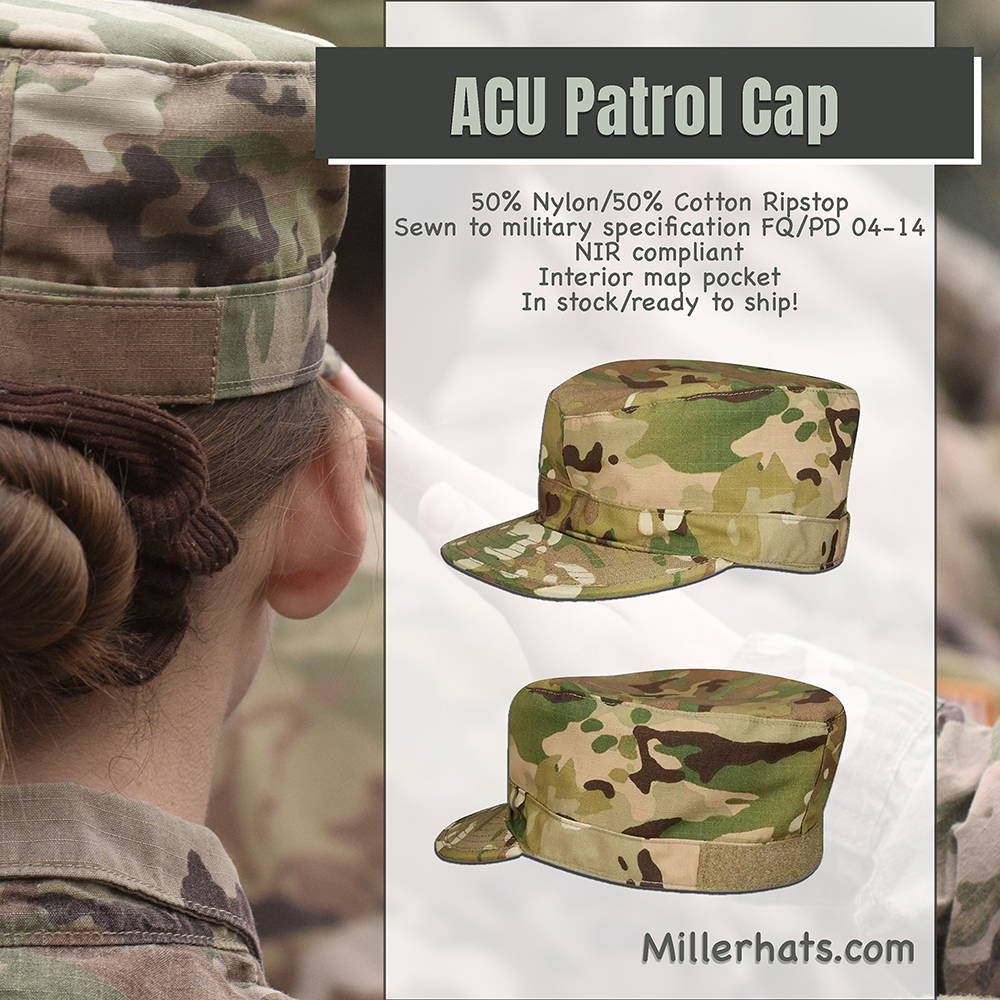 ---

Miller Hats has been in the hat business for over 30 years, are family owned and operated, and committed to providing our customers with quality hats and unsurpassed service. Miller Hats sells only those hats that meet our superior standards; and will therefore provide you, the customer, with years of wearing pleasure. We stock an abundant selection of all your favorite Cowboy Hats, Fedora Hats, Safari Outback Hats, Western and Military and Cavalry Hats and Caps, Fur and Leather Hats, Derby , Top Hats, Skimmer Hats. Miller Hats offers an extensive selection of Cowboy Hats, whether your first choice is an Old West, Gambler or Outback Western Hat. Order online, by telephone or mail.