Men's Mayser Fedora hats

Mens Hats
09-15-2021
Leonhard Mayser opened a millinery shop in Sterngass Street in Ulm in the 1800s. Mayser soon makes a name for itself in the production of handmade men's felt hats. The handmade fedora hat by Mayser shows an attractive modern touch of classical elegance.
The Atos Fedora hat by Mayser comes with a classic Euro center dent crown, snap brim and a top of the line grosgrain ribbon to give the hat plenty of character. Mayser uses 100% genuine fur felt to make this classic fedora Hat. This top of the line fur felt material contributes to making this hat a high-quality fedora.
The Euro Fedora Hats are handmade in Europe by Mayser hats and they come with satin liners. The collection is available in beautiful colors such as black, gray, brown, cognac and blue. The classic center dent fedora hat is very popular at Miller Hats, primarily because every color is available up to size 8. Hats for big heads are hard to find. However, the Mayser brand does a great job of making this hat fit well. The sizing of the hat is accurate to a 64 (European sizing) or size 8 (American). This is one of the few fedoras available in XXXL size.
So, if you are serious about men's fedora hats, Miller Hats is the place to go. Most items are in stock ready to ship!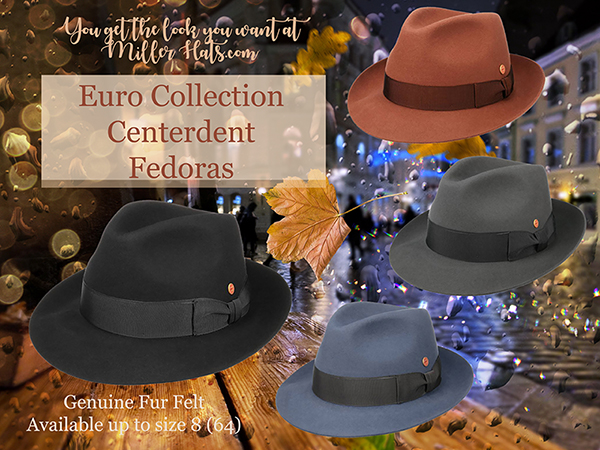 ---

Miller Hats has been in the hat business for over 30 years, are family owned and operated, and committed to providing our customers with quality hats and unsurpassed service. Miller Hats sells only those hats that meet our superior standards; and will therefore provide you, the customer, with years of wearing pleasure. We stock an abundant selection of all your favorite Cowboy Hats, Fedora Hats, Safari Outback Hats, Western and Military and Cavalry Hats and Caps, Fur and Leather Hats, Derby , Top Hats, Skimmer Hats. Miller Hats offers an extensive selection of Cowboy Hats, whether your first choice is an Old West, Gambler or Outback Western Hat. Order online, by telephone or mail.