Men's Boonie Hats

Mens Hats
04-20-2022
Few hats are as instantly associated with the military as the boonie hat. The military, current troops, veterans, law enforcement, tactical communities, public safety communities, even shooting enthusiasts wear Boonie hats. Professionals like you who understand what it takes to get the job done right wore this popular collection. It has become an iconic piece of headwear—not only does it look cool; it is practical and has a rich history.
They engineered this authentic Boonie Hat to block sunlight from your eyes and keep your head cool on hot days. The Ventilation holes on the 100% cotton crown keep the bonnie breathable and cool. The adjustable chin cord allows for custom fit and wearing around the neck when you want to take it off. These boonies come with a Teflon™ fabric protector, which helps repel stains and liquids.
The boonies are so functional that they match the Lightweight Tactical uniforms. We made them with the same fabric as lightweight Tactical Pants, so they are a perfect match. The best part of this collection is that they sew it to military specifications. The item is easy to fold and carry in your packet if needed.
On a more popular note, celebrities also wore boonies in many war movies. Even the young adults wear them for airsoft and paintball activities. A variety of generations wear this popular style. You can find men and women wearing boonie hats while fishing, on a hike, or camping to protect themselves from the sun.
So if you are looking for a bucket hat or a boonie hat Miller hats is the place to go. We have many patterns and colors to choose from. Items are in stock and ready to ship TODAY!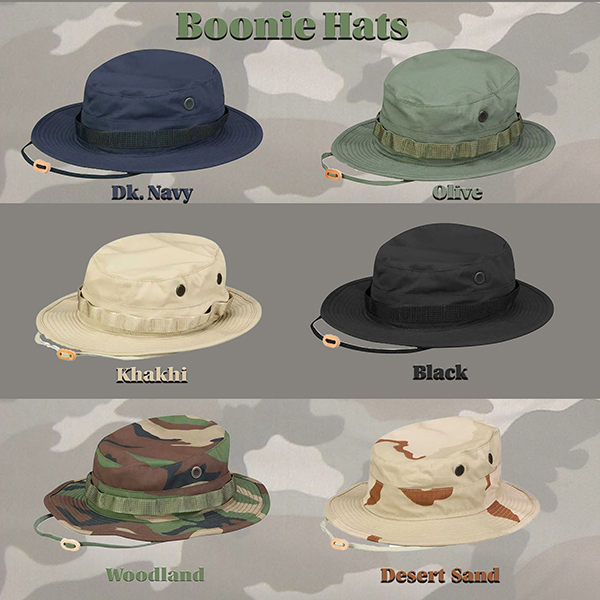 ---

Miller Hats has been in the hat business for over 30 years, are family owned and operated, and committed to providing our customers with quality hats and unsurpassed service. Miller Hats sells only those hats that meet our superior standards; and will therefore provide you, the customer, with years of wearing pleasure. We stock an abundant selection of all your favorite Cowboy Hats, Fedora Hats, Safari Outback Hats, Western and Military and Cavalry Hats and Caps, Fur and Leather Hats, Derby , Top Hats, Skimmer Hats. Miller Hats offers an extensive selection of Cowboy Hats, whether your first choice is an Old West, Gambler or Outback Western Hat. Order online, by telephone or mail.