Genuine Milan Fedora Straw Hats

Mens Hats
08-13-2021
Since the 1950, the Genuine Milan Fedora Straw hats have grown in popularity, second only to the Panama straw hat. Men favor primarily the genuine Milan straw for its fine appearance combined with its being one of the most durable types of straws.
The smart pattern formed by its braid distinguishes the appearance of a Milan, by the pleasing, natural luster of its surface, and by the rich color tones achieved through modern bleaching and dyeing methods.
Miller Hats experts design the current Miller hat's genuine Milam Straw collection.They produce the collection in the USA. The colors of these popular hats include black, brown, navy, gray, white, khaki, and natural. Crowns are available in Center Dent, Teardrop (Fedora straw hats), Telescope, Center Crease.
Most genuine Milan straw hats are available in individual sizes ranging from 6 5/8 - 7 3/4. They come with leather roan sweat bands. Brim sizes are available in the large brim or in stingy brims. The brim size options include 1 ⅞", 2", 2 ⅜", 2 ½", 2 ¾".
This fashionable collection is one of the most popular styles in our store front. The variety of styles and colors makes this hat a wonderful option for a casual or formal event during the summer. Remember, you get the look you want at Miller Hats!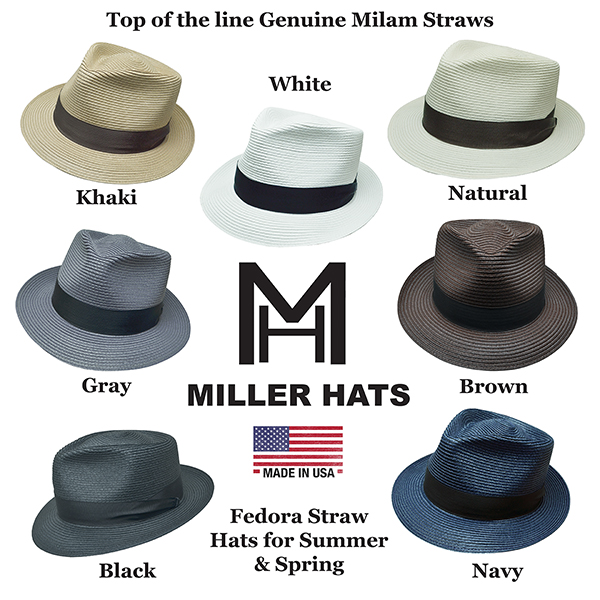 ---

Miller Hats has been in the hat business for over 30 years, are family owned and operated, and committed to providing our customers with quality hats and unsurpassed service. Miller Hats sells only those hats that meet our superior standards; and will therefore provide you, the customer, with years of wearing pleasure. We stock an abundant selection of all your favorite Cowboy Hats, Fedora Hats, Safari Outback Hats, Western and Military and Cavalry Hats and Caps, Fur and Leather Hats, Derby , Top Hats, Skimmer Hats. Miller Hats offers an extensive selection of Cowboy Hats, whether your first choice is an Old West, Gambler or Outback Western Hat. Order online, by telephone or mail.