Gambler Straw Hats by Miller

Mens Hats
07-26-2021
Gambler Straw hats are a fashion accessory and a necessity in certain areas of high temperature such as Houston, Texas and other southern regions of the United States. So if you are looking for a straw hat to wear to the golf court, the Miller Gambler Straw hat is the hat to buy.
The Gambler straw hat is very popular among golfers because it keeps the sun off men's faces and necks while also giving them a unique style. On occasions, traditional gamblers are semi western styles. The crown resembles a round telescope crown, but the brim is 3" wide brim rolled in the edges. The brim is not as wide as a cowboy hat but it gives a great deal of sun protection. A good deal of famous golf players have adopted the straw gambler style, it is one of the best hats for golf or outdoor activities.
Miller Hats Gambler straw hats collection is available in shantung straw, natural color. We designed the hat for Miller Hats in the USA. It comes with a durable roan leather sweatband and a variety of fashionable bands in materials and leather.
The Gambler Straw hat protects you from the sun because of its wide brim, but it also allows your head to breathe. This hat is a classy hat commonly worn in a golf tournament, outdoor activities, a vacation, or just going out for drinks with friends. Remember, you get the look you want at Miller Hats.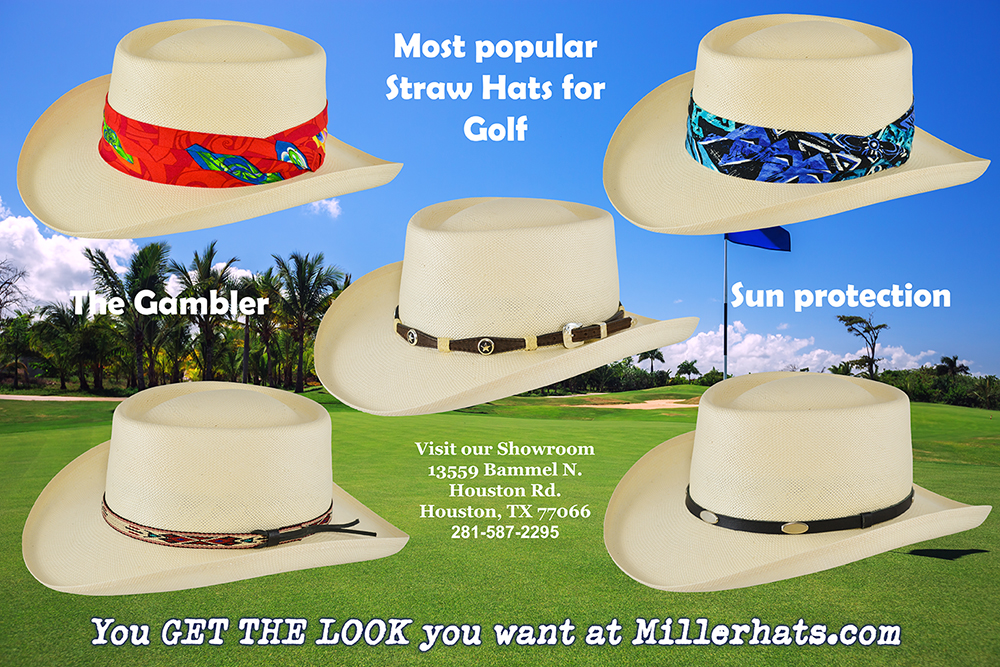 ---

Miller Hats has been in the hat business for over 30 years, are family owned and operated, and committed to providing our customers with quality hats and unsurpassed service. Miller Hats sells only those hats that meet our superior standards; and will therefore provide you, the customer, with years of wearing pleasure. We stock an abundant selection of all your favorite Cowboy Hats, Fedora Hats, Safari Outback Hats, Western and Military and Cavalry Hats and Caps, Fur and Leather Hats, Derby , Top Hats, Skimmer Hats. Miller Hats offers an extensive selection of Cowboy Hats, whether your first choice is an Old West, Gambler or Outback Western Hat. Order online, by telephone or mail.