Doc Holliday Cowboy Hat

Mens Hats
02-17-2022
We know Doc Holliday as the deadly doctor of the American West. His mother died of tuberculosis when he was 15. 6 years later, once he had graduated from dental school, he found out that he had also contracted the disease. He consulted several physicians, but they told him he had only a short time to live. Because of the illness, it forced him to find another way to earn a living.
Doc was a most unusual character. He was educated and refined. Such things were uncommon. He was fluent in Latin, played the piano very well, was a sharp dresser, and displayed the manners of a southern gentleman. His intelligence made him a "natural" at gambling, which quickly became his main means of income
Wyatt and Doc met and formed a friendship in Shanssey's that would last for years. They met again in Tombstone and were part of the gunfight at the O.K. Corral. At the end of the day Doc Holliday enjoyed the reputation of being one of the most fearless men on the frontier, and whose devotion to his friends in the climax of the fiercest ordeal was inextinguishable. If he was ever in trouble, there was a large circle of friends ready to rally, to his relief. Doc Holliday claimed he almost lost his life nine times. They attempted to hang him four times, and they shot him five times.
In the 1993 Tombstone film, Val Kilmer portrays Doc Holliday and his performance is outstanding . His wardrobe in the film was very accurate by many historians. The black coat, the different vest, black pants and many other details are extremely accurate. But one of the most important pieces of the wardrobe is the famous Doc Holliday Cowboy Hat.
Miller Hats understands the relevance of a well-crafted cowboy hat. Therefore, we have designed a durable, unique and affordable Doc Holliday cowboy hat for those Tombstone enthusiasts.
Miller Hats designed an authentic replica, Doc Holliday Hat. The 1993 Tombstone film inspires our Doc Holliday cowboy hat. We designed this famous hat in the USA with a top quality 7X genuine fur felt material. The brim measures 4" bound edge with a slight upturn brim. The crown is a Center Dent, and it comes with optional grosgrain bands. Item is available in black, lined with the famous Miller hat satin liner, and a roan leather sweatband. Item is in stock, ready to ship right away.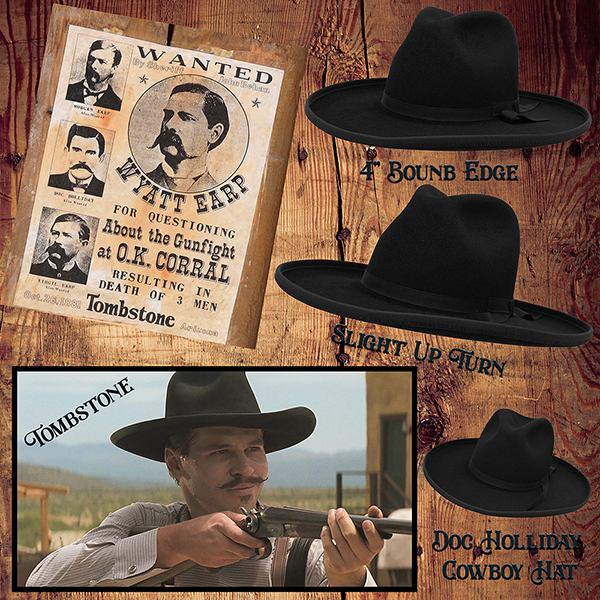 ---

Miller Hats has been in the hat business for over 30 years, are family owned and operated, and committed to providing our customers with quality hats and unsurpassed service. Miller Hats sells only those hats that meet our superior standards; and will therefore provide you, the customer, with years of wearing pleasure. We stock an abundant selection of all your favorite Cowboy Hats, Fedora Hats, Safari Outback Hats, Western and Military and Cavalry Hats and Caps, Fur and Leather Hats, Derby , Top Hats, Skimmer Hats. Miller Hats offers an extensive selection of Cowboy Hats, whether your first choice is an Old West, Gambler or Outback Western Hat. Order online, by telephone or mail.