Derby Hats by Miller Hats

Mens Hats
05-4-2021
The bowler hat, also known as the derby hat in the United States, is a firm fur felt or wool felt hat with a rounded crown, created by the London hat-makers Thomas and William Bowler in 1849. Hat wearers have traditionally worn the derby hat with semi formal and informal attires. The classic bowler hat was popular with the British, Irish, and American working classes during the end of the 19th century and beginning of the 20th Century. The derby hat became popular among the middle and upper classes in the United Kingdom, Ireland, and the east cost United States.
The derby or bowler hat were also popular in the frontier, as were the wide brim hats worn by many cowboys. Although smaller headgear was reserved for town wear, a few bank robbers like Charles Bolton, Alias Black Bart would wear it. The Wild Bunch wore the Derby or bowler hat for formal wear, as we can see in one of their famous portraits. Front row left to right; Harry Alonzo Longabaugh, alias the Sundance Kid, Ben Kilpatrick, alias the Tall Texan, Robert Leroy Parker, alias Butch Cassidy; standing: Will Carver, alias News Carver, & Harvey Logan, alias Kid Curry.
Many famous icons made the derby popular. Charlie Chaplin, who wore the hat as part of his costume, is the most distinguished one. Nowadays, the derby is used in many classic films and theatrical performances. They often wore the hat in Kentucky derby events, Great Gatsby parties, or even formal events.
We carry Miller Hats derbies in both wool and rabbit fur felt. The hat is available in black and it comes with a double bow grosgrain band. We line them with the famous Miller Hats satin liners.
So, If you are looking for a formal classic look, the derby hat is the hat to go with. You can always pair your bowler hat with a business suit, a lounge suit or a stroller suit and wear it in formal settings. They can also pair it with a classic overcoat. The derby would add elegance to your outfit.
Order your Derby or Bowler hat TODAY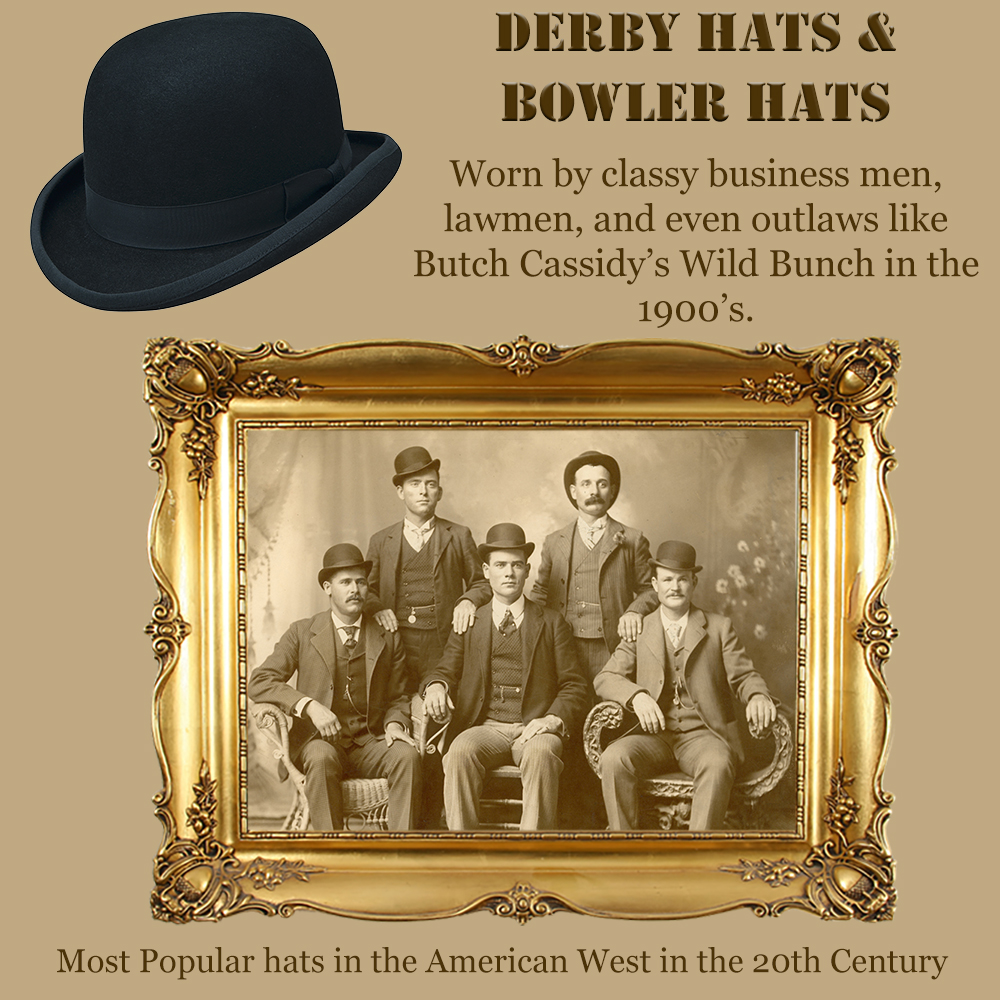 ---

Miller Hats has been in the hat business for over 30 years, are family owned and operated, and committed to providing our customers with quality hats and unsurpassed service. Miller Hats sells only those hats that meet our superior standards; and will therefore provide you, the customer, with years of wearing pleasure. We stock an abundant selection of all your favorite Cowboy Hats, Fedora Hats, Safari Outback Hats, Western and Military and Cavalry Hats and Caps, Fur and Leather Hats, Derby , Top Hats, Skimmer Hats. Miller Hats offers an extensive selection of Cowboy Hats, whether your first choice is an Old West, Gambler or Outback Western Hat. Order online, by telephone or mail.