Braided Casual Straw Hats

Mens Hats
04-19-2021
A Casual Straw Hat is normally a brimmed hat that is woven out of straw or straw-like materials from different plants or synthetics. Most Straw hats are designed to protect the head from the sun and against heatstroke, but some of the more modern casual straw hats are often used for fashion. This is the case of the Braided Polypropylene collection by Bailey.
The hat is made of a poly braid, it comes in a 2" brim, with a 4" center dent crown. The item is made in the USA, the braid is imported from overseas. The Trilby or Stingy brim style of this Mannesroe Casual straw hat makes it a great fashionable and stylish summer hat. The hat is not just comfortable in your head but it feels light when you wear it. The collection comes in Ivory, Black and Gray, sizes available from 6 ⅞ - 7 ⅞.
The Mannesroe Fedora Straw Hat in Bailey's braid collection is bold yet stylishly sophisticated for the summer's evening activities. The multi colored pattern gives this straw fedora hat an eye catching appeal and before you know it all of your friends will be asking where you acquired this magnificent casual accessory. Place your straw hat order Today!
https://www.millerhats.com/store/387-Casual-Straw-Hats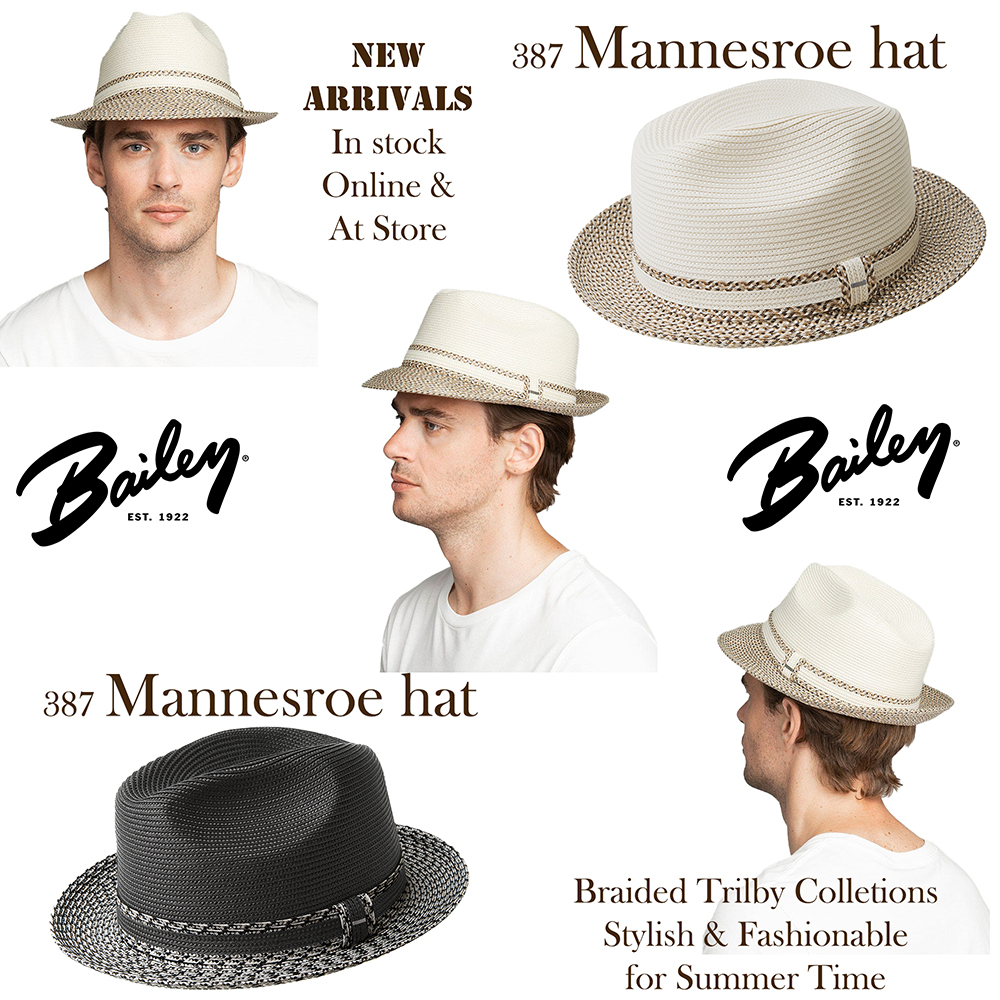 ---

Miller Hats has been in the hat business for over 30 years, are family owned and operated, and committed to providing our customers with quality hats and unsurpassed service. Miller Hats sells only those hats that meet our superior standards; and will therefore provide you, the customer, with years of wearing pleasure. We stock an abundant selection of all your favorite Cowboy Hats, Fedora Hats, Safari Outback Hats, Western and Military and Cavalry Hats and Caps, Fur and Leather Hats, Derby , Top Hats, Skimmer Hats. Miller Hats offers an extensive selection of Cowboy Hats, whether your first choice is an Old West, Gambler or Outback Western Hat. Order online, by telephone or mail.