Biltmore Straw Hats

Mens Hats
04-6-2022
Biltmore was founded in 1917 in Guelph, Canada and through their dedication to quality hats, quickly became one of the top luxury hat companies in Canada. The name was changed to Biltmore Hats after the luxurious New York City hotel. By the late 1950s, the factory was producing nearly 2,400 Biltmore hats per day. After nearly 95 years in Canada, the company was purchased by Dorman Pacific in 2011 and production was moved to the Milano Hat Company in Garland, Texas. Biltmore Hats continues to produce the same classic styles that have made them so well-known. With an established legacy of quality craftsmanship. Miller Hats carries the Biltmore Hats line since 1995. Today the collection includes handwoven Panama hats, shantung hats and milan straws.
Order your Biltmore Hat TODAY!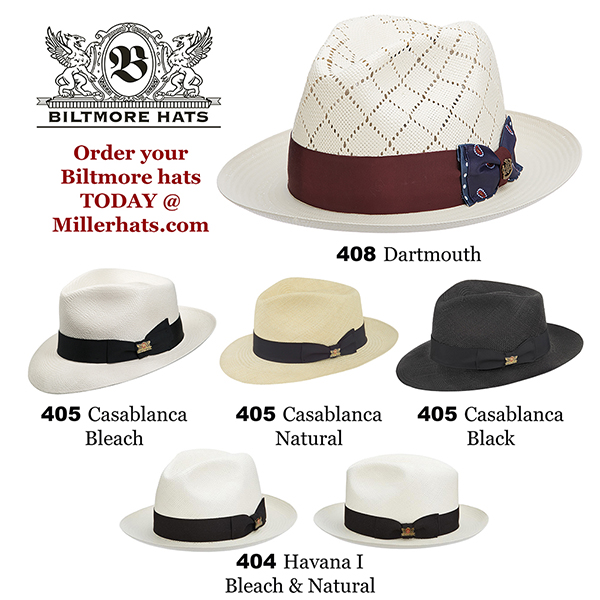 ---

Miller Hats has been in the hat business for over 30 years, are family owned and operated, and committed to providing our customers with quality hats and unsurpassed service. Miller Hats sells only those hats that meet our superior standards; and will therefore provide you, the customer, with years of wearing pleasure. We stock an abundant selection of all your favorite Cowboy Hats, Fedora Hats, Safari Outback Hats, Western and Military and Cavalry Hats and Caps, Fur and Leather Hats, Derby , Top Hats, Skimmer Hats. Miller Hats offers an extensive selection of Cowboy Hats, whether your first choice is an Old West, Gambler or Outback Western Hat. Order online, by telephone or mail.