Bear Bryant Fedora Hats

Mens Hats
02-1-2021
The "Bear" Bryant Fedora Hat
Paul W. Bryant became one of the most famous college coaches in football history. He is not just an icon in the University of Alabama but he was a determined coach who inspired many others. His popularity was not only his coaching method but also his fashion. Based on history, he received his first houndstooth hat from New York Jet owner Sonny Werblin.
Paul "Bear" Bryant started coaching for the University of Alabama in 1958 and gave the University multiple Championships during his coaching. He started wearing his Houndstooth hat for game days and it became his tradition. It is reasonable to say that Bear Bryant was instrumental in revolutionizing Crimson Tide football.
Nowadays many Alabama fans wear the Houndstooth pattern made famous by Bear Bryant. Many Alabama fans show their love for the black and white houndstooth hats and accessories in every game. Miller hats have been servicing the Bear Bryant fans with the Houndstooth Fedora Hat for many years. Bear Bryan Hat is available to ship right away.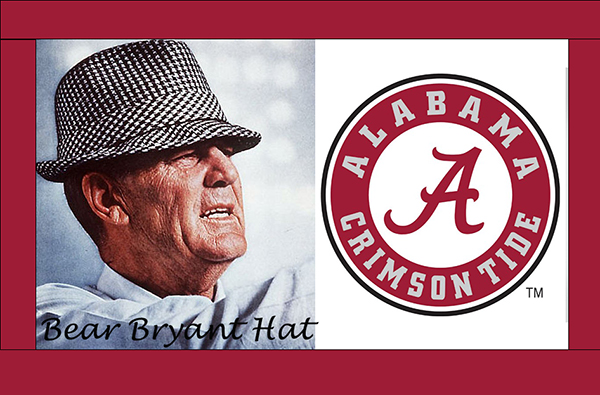 ---

Miller Hats has been in the hat business for over 30 years, are family owned and operated, and committed to providing our customers with quality hats and unsurpassed service. Miller Hats sells only those hats that meet our superior standards; and will therefore provide you, the customer, with years of wearing pleasure. We stock an abundant selection of all your favorite Cowboy Hats, Fedora Hats, Safari Outback Hats, Western and Military and Cavalry Hats and Caps, Fur and Leather Hats, Derby , Top Hats, Skimmer Hats. Miller Hats offers an extensive selection of Cowboy Hats, whether your first choice is an Old West, Gambler or Outback Western Hat. Order online, by telephone or mail.