Bailey Hats by Miller

Mens Hats
04-8-2021
The Bailey Hat Company was founded by George Bailey in 1922 in Los Angeles, California. Bailey was purchased by the Bollman Hat Company in 1986. Bailey hats and caps are known for craftsmanship, innovative design and luxury fibers and fabrics including fur felt, wool felt, Litefelt, genuine panama, shantung, toyo straws and many others. These individually handcrafted hats are durable and carry a strong and sophisticated look.
The Spring & Summer Bailey Hat collections that Miller Hats carries include Panama hats, litestraw hats and the raindura straw hats.
The Bailey Panama hats are made of luxurious, lightweight, and natural straw hats. They are of Ecuadorian origin and they get their name from the hat worn during the construction of the Panama Canal. The panama hats are made from natural biodegradable fibers that come from the Toquilla plant and can take weeks to months to make one hat, depending on the Grade. They are blocked and finished in the USA with a passionate focus on making exquisitely crafted items.
Another Summer Straw Hat material includes the litestraw collection, which is a revolutionary fishing technology that softens traditionally hard straw headwear to create a soft, casual hat with flexibility. The Bailey Litestraw hats come with a water repellent finish and comfort sweatbands. Made in the USA.
Finally the Bailey Raindura straw hat - a revolutionary thermosetting yarn is hand woven inside a paper fiber straw hat body. The hat is then blocked and treated with an ultra light yet extremely effective water repellent coating. The results is the most durable, shape retentive, water repellant paper straw hat on the market. Let it rain!
Items in Stock ready to ship TODAY!
Items in Stock ready to ship TODAY!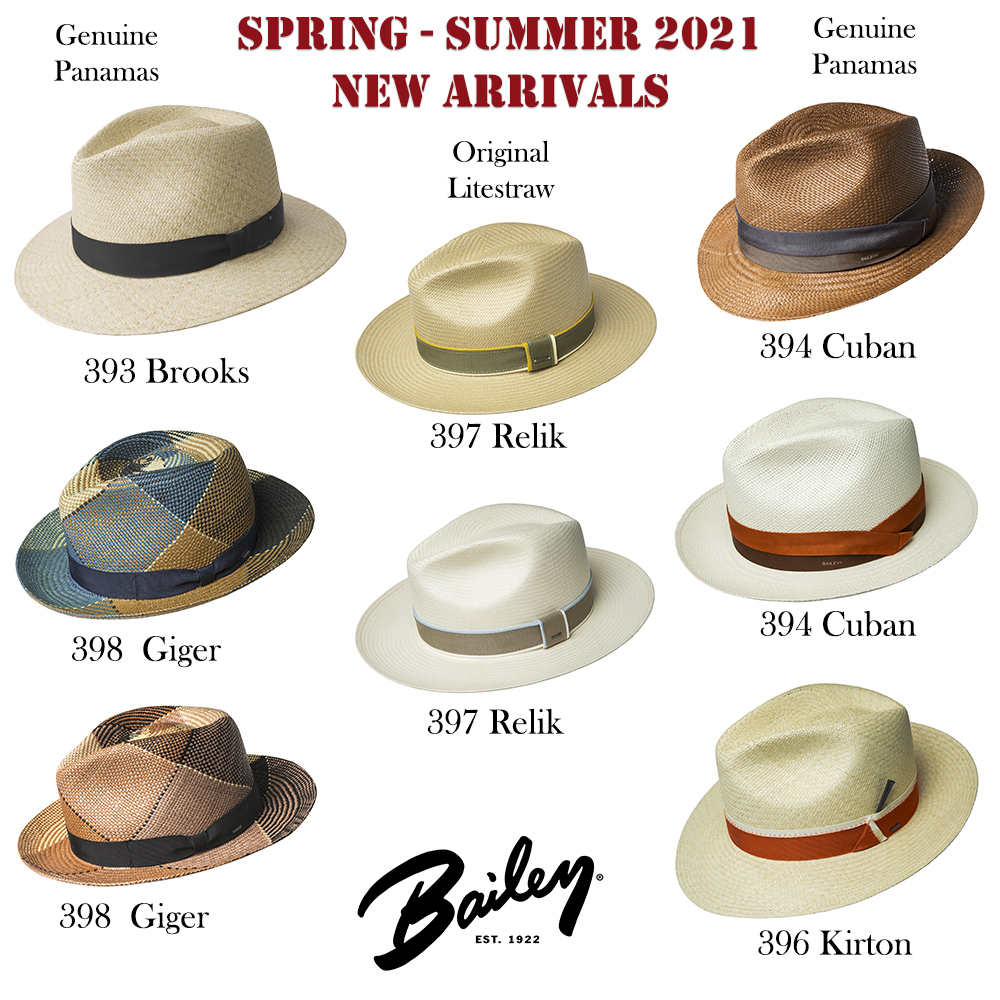 ---

Miller Hats has been in the hat business for over 30 years, are family owned and operated, and committed to providing our customers with quality hats and unsurpassed service. Miller Hats sells only those hats that meet our superior standards; and will therefore provide you, the customer, with years of wearing pleasure. We stock an abundant selection of all your favorite Cowboy Hats, Fedora Hats, Safari Outback Hats, Western and Military and Cavalry Hats and Caps, Fur and Leather Hats, Derby , Top Hats, Skimmer Hats. Miller Hats offers an extensive selection of Cowboy Hats, whether your first choice is an Old West, Gambler or Outback Western Hat. Order online, by telephone or mail.