Apocalypse now Cavalry Hats by Miller Hats

Mens Hats
05-26-2021
"Apocalypse Now" starring Robert Duvall as Lt. Colonel Kilgore, is outfitted with different cavalry hat styles all with similar qualities. In some cases he wore the "Kilgore" with the 9th cavalry sabers, the Lt. Col. Rank insignia, and the black and gold acorn band with gold acorns, while in others he simply wore the cross-sabers pin with no rank. After the premiere of the "Apocalypse Now" movie, this Hollywood Legend made the "Kilgore hat" very popular, the 4 ⅝" high crown, 3 ½" medium brim, and the enlisted cross-sabers are recognizable nationwide.
This hat is very popular amongst cavalry troops and their squads. Miller Hats has done extensive research and concluded with a style that we feel best fits the one worn by Lt. Colonel Kilgore in "Apocalypse Now".

The Apocalypse Now replica made by Miller Hats comes in a high quality 7X fur felt material. The custom hat has a roan leather sweatband, the famous Miller Hats satin liner, grosgrain band and your choice of acorn bands. Our final product is an elegant cavalry hat that will fit you comfortably, that will last you a long time and that gives you a unique look.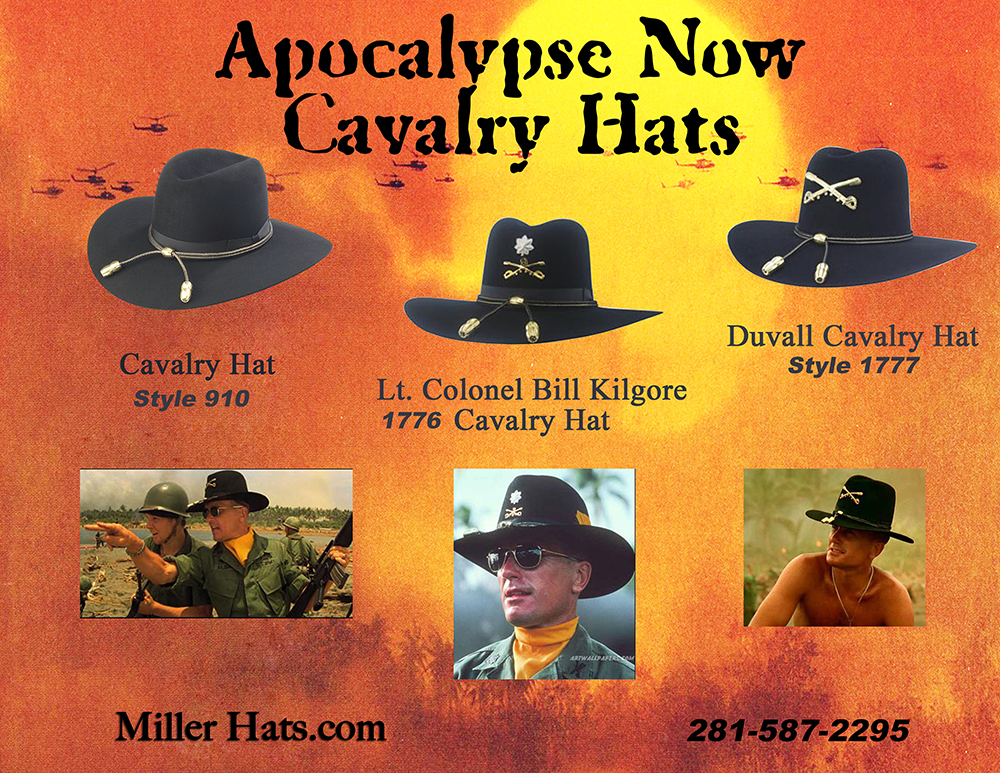 ---

Miller Hats has been in the hat business for over 30 years, are family owned and operated, and committed to providing our customers with quality hats and unsurpassed service. Miller Hats sells only those hats that meet our superior standards; and will therefore provide you, the customer, with years of wearing pleasure. We stock an abundant selection of all your favorite Cowboy Hats, Fedora Hats, Safari Outback Hats, Western and Military and Cavalry Hats and Caps, Fur and Leather Hats, Derby , Top Hats, Skimmer Hats. Miller Hats offers an extensive selection of Cowboy Hats, whether your first choice is an Old West, Gambler or Outback Western Hat. Order online, by telephone or mail.